Your Magician
Greetings! We'd like to introduce to you the magician who will be coming to your event and performing his magic! Please welcome, Eddy Ray!
Here is a brief bio of your magician: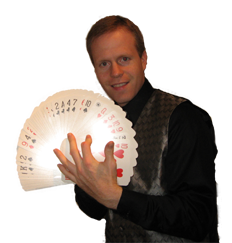 Eddy has been performing magic tricks since the age of 5 and started performing professionally right after graduating high school in 1998. Since then he appears and performs at over 250 events and parties annually. Performances range from parties to scout programs, school assemblies and community events!
Eddy is not only a pro but he is an author of 3 books on magic and over 10 instructional magic videos. He has taught magic through lectures and workshops for the public and other magicians. He's traveled across the country and world including performance in Japan.
He brings a great outgoing personality, fun sense of humor, and engaging interactive magic show that will be the highlight of your party!
Here is a brief video of him performing for a family event at a local YMCA.